Love Those Brookies - near the Dolores River
The high and rugged San Juan Mountains provided unrivalled scenery while fishing the Dolores River in southwest Colorado. Having lived in nearby Durango for several years, I read extensively about the highly mineralized San Juans and the incredible stories of miners and their search for gold in these mountains. The miners came to mind as I searched for my own kind of gold—living, beautiful trout. My stopover for this trip was the mountain home of former Telluride Library Director and friend, Barb Brattin. We enjoyed the evening scenery on an Adirondack bench and talked about libraries, the mountains and fishing.
On the western slope of the San Juans, there are three main tributaries that feed the far-reaching Colorado River including the Dolores, the Gunnison and the San Miguel River (which is also a tributary of the Dolores). Since the San Miguel was within 30 minutes of the Dolores, I made an early morning stop to hunt for fish through some of the most beautiful country in Colorado. I tied on two flies—a stonefly imitation and a bead head flashback pheasant tail—and came up with a single rainbow after working the water for over an hour. The problem with the San Miguel is that it doesn't have a "catch and release" policy and the consequences are a real shortage of fish, according to a local guide.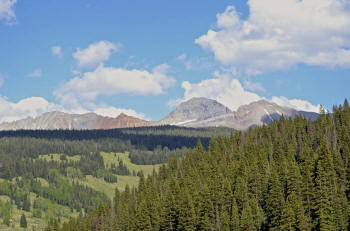 View of the San Juan Mountains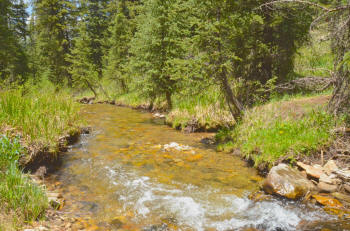 First Brookie Stream
"Catch and release" is a topic that draws out the same kind of extreme talk and confrontations as modern politics does. Is the modern fly-fisher a brutal and inhuman creature to catch a fish for the sport of catching it only to release it back in the river? Is it better to keep the fish once it's caught, kill it, fillet it and then stop fishing for the day?
Initially, these were questions that I had not thought about. As I immersed myself more and more into fishing and reading about the sport, I became ambivalent. Just like any issue—health care, immigration and gun control—there are no clear-cut answers. There are pros and cons to any position, but there is usually one direction that makes more sense to more people. I favored releasing a fish back into the water and not killing it, but there is a release process that must be followed: reel in the fish quickly, release it as soon as possible without handling it and, if a photo is necessary, prepare the camera before taking the fish out of the net, so it's out of the water for only a few seconds. I really have to bite my tongue when I see a fish laid out on the banks for a photo op.
Leaving the San Miguel, I discussed next steps with my rather gritty guide, Dave Hill, a fly-fishing fixture in Telluride for decades. Dave recounted stories of classic clients—like the one who had suffered a heart attack the night before a fishing date, but still showed up to fish the next day with oxygen in his nose and a cigarette in his mouth. When I casually mentioned that I had not yet seen or caught a brook trout, he slammed on the brakes and steered us off in another direction. "Lady, we're going to go catch us a brookie! It'll be a rough ride to the stream, but we gotta do what we gotta do," he insisted. He changed course, heading in the direction of a small feeder stream to the Dolores, where I would have the chance to catch my first brookie. I was excited!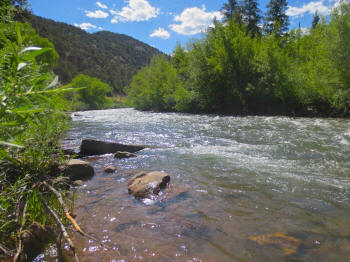 Dolores River Backdrop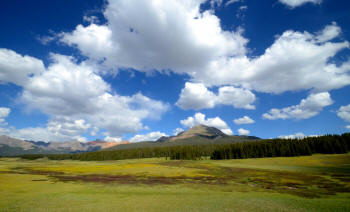 Dolores River
The road required his four-wheel drive vehicle as we dodged rocks and other debris. This was old mining country, famous for providing uranium to Marie Curie and for the atomic bombs—or so the story goes. Isn't it ironic that one of the most beautiful places on earth can be the source for one of the most destructive things ever made?
We stopped at a boarded-up cabin that was still in the family of the original mining claimant. The chimney had been removed because snowmobiles had run into it after the cabin had been completely covered with snow from a normal winter in the San Juans. We were alone except for the gentle stream flowing down a steep hill through a copse of trees.
We quietly approached the stream and spotted a glassy pool that had formed after a large, downed tree branch. I prepared to fish with a dry fly—a size 18 elk hair caddis on my 5-weight rod. I didn't yet own a 4-weight rod, although it would have been perfect for this river. I made a good cast to the top of the pool and in a heartbeat, a fish rose to eat the fly, but I missed it. "No! I blew my chance for a brookie!" I blurted out. I tried another cast and the exact same thing happened—a fish rose to the fly, and I missed setting the hook. "You've got to be kidding me!" I said, totally frustrated.
With that hole spent, we headed upstream to the next pool of water. I made another good cast, and almost in slow motion observed an immediate rise, and again, a blundering miss. (I won't share the word I used then.) After a winter of nymph fishing, I realized I had a whole lot more to learn about other kinds of casting and catching. My mantra became "not too fast, not too slow." Kinda sexy!
And then there was that magical moment. That moment when I made the right cast and waited the right amount of time to set my hook to find a tight line. I experienced an indescribable rush from having finally connected with a beautiful, small stream brook trout. The little creature measured only seven inches and had a greenish tinge with a sort of marbled pattern of lighter shades along its back. The belly sported a more reddish color with a smattering of red spots encircled by a bluish ring. I released this beauty without touching it so as to not disturb its protective coating and looked up at Dave feeling like I had just conquered the world.
I don't remember much about the rest of my day after that. We did head down to the upper Dolores where there appeared to be some really good water to catch fish, but we were not able to land a single fish in the main branch of the river. Dave seemed perturbed that this was the case in his hallowed waters, but I remained fixated on my little brookie and went home a happy camper.
#####
Webmaster note: This story is an excerpt from the book, '52 Rivers, 52 Weeks' by Shelley Walchak. To find out more about Shelley, and to purchase the book, visit her website 52Rivers.com
Resources/Other Info:
---