Winter Fishing in Cheesman Canyon
by K. Christopherson

Click here to buy a digital South Platte Fishing Map
Winter has arrived after a long respite from the cold. With other rivers starting to ice over, it now becomes 'tailwater time'. One of the longest public tailwaters in the state is a gold medal fishery and also renown for smart, hard-to-land fish. Yes, this is the South Platte flowing through Cheesman Canyon.
Cheesman is blessed with midge hatches throughout the winter. Coupled with releases from Cheesman Reservoir, this tailwater offers an excellent place for winter fishing and an opportunity to land some very large browns or rainbows. The beauty of the canyon lies not just in the fishery. This canyon is lined with granite walls. Large boulders grace the river and provide many holes for fish to winter and anglers to drift a nymph.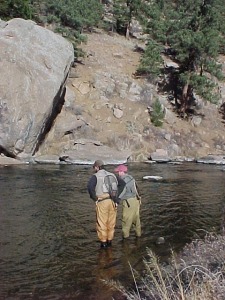 Drifting a nymph through a nice run. Sight-fishing is one key to success in Cheesman
Anyone who has heard of this section of the South Platte, or who has attempted to fish it, knows that it can be tough. The fish can be picky, finicky, stubborn, plus a host of other adjectives that one hears from many a flyfisherman's mouth. However, with a few hints, the opportunities can be strengthened for at least attracting and hooking one of these large trout.
I tagged along when my friend, Trevor Dean, hired well-known tailwater guide, Pat Dorsey, for a day of flyfishing Cheesman in November. The day started out chilly (16 degrees at 8:30am) but the skies stayed clear all day and the sun shown in the canyon for about 6 hours.
Pat started by rigging Trevor up for a day of nymphing. Pat suggests a 9-foot, 4 weight rod with a 7.5 foot 5x leader. He attaches about 16" of tippet (6x) and a mercury midge nymph. Below that he adds another 16" or so of 6x and a sparkle-wing RS2. At the leader/tipper junction he places a #2 shot weight. During the day, he adjusts the weight using soft weight (as sold by Orvis or Loon). A yarn strike indicator is set at about two times the current depth. Pat likes a neutral color, such as beige, since he feels the big, smart trout will view this as a leaf floating overhead.
Pat suggests very small flies, size 22 and smaller. And he almost always nymphs in Cheesman. He said that when a trout sees a size 18 fly it "looks like a gorilla". Mercury midges, brassies, buckskins, RS2's in variety - these are the flies for Cheesman in winter. He will use an occasional egg pattern if he spots one of the Kamloops Rainbows who have sneaked upstream from the private Wigwam Club. When spring arrives and flows increase from the dam, San Juan worms and scuds are suggested patterns. There will also be sporadic BWO hatches during winter months.
Speaking of eyes - Pat Dorsey has X-Ray vision. I witnessed this. Yes, he wears good polarized glasses with side shields and a billed hat. However, while Trevor and I were busy spotting the trout and watching its movement, Pat was watching the trout open his mouth. He doesn't just watch the strike indicator, he waits 'til he sees the fish actually take the fly! Amazing - he says it's training and to watch a cone of vision around the fish. This is one of the secrets to fishing in this canyon. The strikes will be so subtle that your indicator may not do its job. YOU HAVE TO WATCH THE FISH! Easier said than done........This is one of the reasons to hire a guide to learn this river. They understand the fish and their habits much better than anglers who venture here a few times a year.
Cheesman can get crowded - having a nice tailwater this close to Denver is a blessing and a curse. If the lower section is full, hike up the trail a bit further until you find a section that tempts your fly. One positive side to the smart trout in Cheesman is that they are not very spooky. You can stand about 15 to 20 feet from the sighted trout and cast to them many times before either success or failure on your set.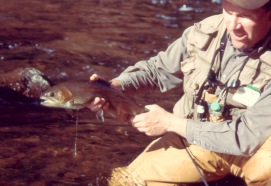 Pat Dorsey holds up one of the fine Cheesman Rainbows
Getting to Cheesman Canyon: Follow Hwy 126 south from Pine Junction. At about 22 miles, and just past the Wigwam Campground, you will see some small parking areas on the north side of the road. Park here, if you can, and cross the road. You will follow the Gill Trail into the Canyon. After a few minutes of hiking, the trail will reach the river which it follows upstream for about 3.5 miles. The trail diverts around the private Wigwam Club, which marks the lower end of the Cheesman section on the S. Platte. Don't even think of trespassing on their property!
Hiking into Cheesman Canyon is getting less perilous thanks to a recent trail improvement project. The Cutthroat Chapter of Trout Unlimited, along with Pike National Forest and the Denver Water Board, have massed a corps of volunteers to improve trails and signage. Footing can still be tenuous but this project has made hiking safer and also aided in the aesthetics of the canyon.
Thanks to:
Pat Dorsey, Guide Coordinator for the Blue Quill Angler in Evergreen
Be kind to Cheesman:
After the fires in 2002, and drought in 2003, Cheesman can be fragile at times. Stay on the trails. Practice your catch and release well, and respect the canyon if the flows are too low.
Resources:

Buy South Platte Digital Fishing Maps. Available as download or on cd. Click here for info or to purchase.

Buy an ebook on CD: Fifty Colorado Tailwaters: A Fly Fisher's Guide Click here for info or to purchase. Includes the Cheesman section of the South Platte

Click here to buy topo maps for this area. You need map 135 for the South Platte in Cheesman, Deckers and Waterton Canyons. Maps are produced by National Geographic Maps
Info on the Gill Trail from Pike National Forest
Info on Other South Platte areas:
Map:
View Larger Map
Stream Flows
South Platte River below Cheesman Reservoir
---