Foothills Fishing Part III: Clear Creek
by K. Christopherson
The is the third in a series about fishing in the Front Range foothills of Colorado. This week we will travel to Clear Creek. This creek, actually more of a river, is easily accessible and runs for miles. We all drive by it, probably en route to other fishing spots or skiing. However, keep Clear Creek in mind for a fishing spot closer to home or when the weekend traffic tells you to stop before the tunnel. Fishing this river means listening to traffic roar by, but its rocky route ensures lots of pools to hunt for browns.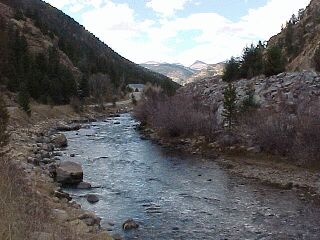 Looking west at the divide
Mining country
Clear Creek starts near the Continental Divide, very close to Loveland ski area. It travels along I-70, through the old Colorado mining towns of Georgetown, Silver Plume, and Idaho Springs. East of Idaho Springs, Clear Creek soon parts with I-70 (can't make it over Floyd Hill!) and runs along Hwy 6. After leaving the mountains, this creek runs through Golden and between North and South Table Mountain. This is the home of the Coors Brewery - guess where they get their "mountain spring" water from?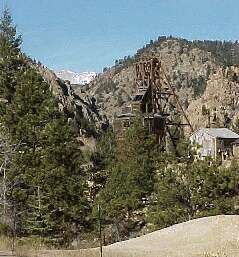 An old mine next to the river
Great access
The beauty of Clear Creek is that it is pretty clear - the mining activity has been cleaned up, allowing the river to support a decent trout population. Because the creek runs along major highways, access is easy. Don't park on I-70 though - use the local roads for parking and access. And, most of the access is on public lands or on property that people don't mind you fishing! Just keep an eye out for posted private property. Otherwise, it's probably okay to give it a go and jump on the river. Be careful during high runoff in the spring, and watch for rafters in the summer.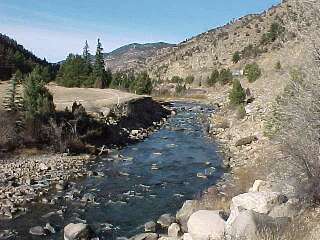 Flowing along I-70
Headwaters to Idaho Springs
Above Georgetown, most of the land is BLM or Arapaho/Roosevelt National Forest. Here you will find Rainbows and Cutthroats. At Georgetown, the river joins with South Clear Creek, getting significantly larger. It then flows into Georgetown Lake (actually a reservoir) and there is a small section below the dam which holds fish. Below Georgetown the river travels through many small communities. To access the river along the I-70 portion, it is best to get onto the frontage road (the old Hwy 6). This can be done by exiting at Georgetown, Downieville, or Dumont and taking the frontage instead of I-70. If you exit at Idaho Springs, travel to the west end of town on Colorado Street, then take the Stanley Rd. turn instead of the I-70 access. This runs along the south side of the creek and there are a few turn-outs. You can also travel east through Idaho Springs and again, take the frontage road instead on getting on the interstate to find good access downstream.
Another fun section is the North Fork of Clear Creek, off Hwy 40 between Empire and Berthoud Pass. There is access above Empire in national forest land. Park at turnouts or the picnic ground and try your hand at catching some brookies.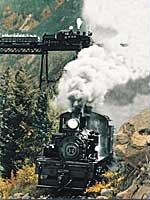 The Georgetown Loop Railway is a narrow gauge from the past which you can ride today. It travels above Clear Creek. Photo courtesy Ken Papaleo.
Below Idaho Springs
There is a bike path that follows the river between Idaho Springs and the Hwy 6/I-70 junction. There are some great flyfishing opportunities in this section too. Park at one of the exits off I-70 and walk or bike on the path. The browns love hanging out in the deep pools and will dash up for a dry fly.
Highway 6 and I-70 part company east of Idaho Springs. Clear Creek runs through - you guessed it - Clear Creek Canyon. You can fish almost anywhere in here, parking along Hwy 6. Some of the land is owned by Jefferson County Open Space. Even though the area is not official park yet, it is open to the public as long as you obey all signage. Watch out for the crazy drivers returning from an unlucky time and too many beers at Blackhawk/Central City casinos. If you want to see an example of a "dirty" Clear Creek, drive north on Hwy 119 which follows North Clear Creek. It is filled with mine and construction runoff - no fish would have a chance in this tributary.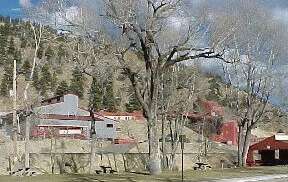 Clear Creek flows though the park in Idaho Springs, across from the Argo Mill.
Resources/Other Info:
You have to stop for a beer at Tommyknocker's Brewery in Idaho Springs! This is one of the best small brewerys in Colorado. Try the Maple Nut Brown, and find out what a "tommyknocker" is.

Click here to buy topo maps for this area. You need map 104 for Clear Creek from the divide to below Georgetown. Map 103 covers the section from there to Idaho Springs. A road map will help for the section in Clear Creek Canyon west of Golden. Maps are produced by National Geographic Maps
See the website for Arapaho and Roosevelt National Forest
You can tour Coors Brewery in Golden and taste their beers. Ask for the "short" tour and go straight to the tasting room. Why waste time...
How to get there?
Pretty easy - take either I-70 or Hwy 6 west from Denver, depending on which portion you want to fish.
Rules for Clear Creek
State regs on all of the river.
Where to stay?
There are several forest service campgrounds in the area. There are a B&B's and motels in Georgetown, Idaho Springs, and Evergreen.
View Larger Map
---