Foothills Fishing Part I:
St. Vrain Creeks and area lakes
by Karen Christopherson
I get a lot of questions about where to fish close to Denver and other metro towns. Some want a place to learn fishing, some want to go fishing after dinner, and some just want an escape for a couple of hours while here on business. This feature will start a series of fishing spots in the Front Range foothills of Colorado, within an hour or so driving distance from the Denver metro area. Some places will be easy to reach and some require a hike, but all offer fishing with a great view and a bit of a challenge.
This week's trip is to the St. Vrain creeks (North, Middle, and South) and several mountain lakes which are accessed off of the Peak-to-Peak Highway (State Hwy 72 and 7). The area is blessed with splendid views of Longs Peak and other Front Range mountains. Wildlife abounds (including big horn sheep). Some areas can be crowded, but if you're willing to hike you can easily avoid seeing any other anglers. This area, west of Boulder and Lyons, is home to small-stream fishing. Although the St. Vrain gets to be decent sized by the time the its tributaries merge, the mountain creeks are quite narrow running thru canyons. Most of the creek beds are filled with large boulders, tumbled down from the walls above.. Be wary when fishing in spring or summer. Spring run-off can be large, and summer can produce flash floods. However, these creeks abound with small pools which hold browns, rainbows, and cutthroats. Though they may not be large in size, these fish present a challenge - release them for another day's fishing.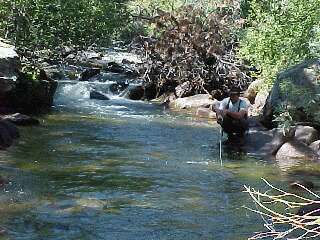 Coaxing the browns from the deep pools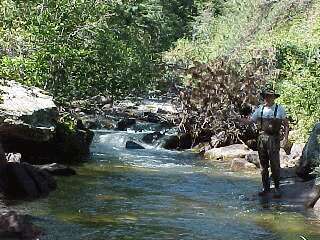 Got one on a beadhead
North St. Vrain Creek
North St. Vrain Creek starts in Rocky Mountain National Park, just south of Longs Peak. You can fish it in the park by entering at the Wild Basin ranger station. There is road and trail access to the creek. As it flows east, the North St. Vrain crosses under Hwy 7 north of Allenspark and runs through private property. That portion of the creek, from its confluence with Horse Creek to Button Rock Reservoir, is designated as Wild Trout Water. Most of the creek is on Nat'l Forest land and in a deep canyon. Access is tricky - we could find no road access from the west (and people weren't especially friendly about offering advice). You can access two forest roads from Hwy 7 on the south. They are not marked, so you'll need a forest service map and good sense of direction. One trail in is Dry St. Vrain #920. The roads are rough, and once at the end you'll need to hike for a mile or so to get to the canyon. It's 600 to 1000 feet down to the river! This is a challenge. What out for rattlesnakes and watch your footing on the steep canyon trails. You can also access North St. Vrain Creek from the east. From Lyons, travel northwest on Hwy 36. After about 3.5 miles, turn left on county road 80 and follow this to a parking area. It is a two-mile hike to the dam, but you can fish the creek along the way. The tailwater just below the dam is closed to fishing. This area stays open year round.
Middle St. Vrain Creek
Middle St. Vrain Creek starts just south of Rocky Mtn Park in the Indian Peaks Wilderness Area. It flows east through Camp Dick and Peaceful Valley campgrounds, just west off Hwy 72 at Peaceful Valley. There is a road and trails by which you can access the creek. Look for cutthroats in the small pools. The creek then flows alongside Hwy 72, running northeast and merging with South St. Vrain Creek east of Riverside near Hwy 7. Most of the access to the creek between Peaceful Valley and through Raymond is private.
South St. Vrain Creek; Brainard, Red Rock and other lakes
South St. Vrain Creek has its headwaters also in the Indian Peaks Wilderness. You can access this area off of Hwy72 at Ward. Look for the Brainard Lake Recreation Area - there is a $5 per car charge to enter. But this gives you access to several varieties of fishing. You can hike to the creek (South St. Vrain Creek trail). For a change of pace, hike or drive to one of several lovely mountain lakes.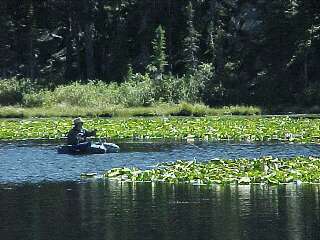 Red Rock Lake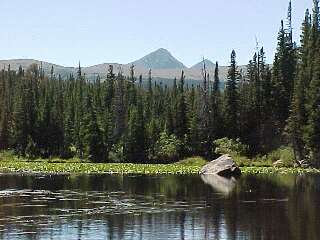 Mountain views
Within Brainard Lake Recreation Area, you can drive to Red Rock Lake or Brainard Lake. Both have areas for shore fishing, and float tubes are allowed. Or take a hike to Long or Blue Lakes. Bring some warm gear - these lakes are at elevations of about 11,000 feet.
As South St. Vrain Creek flows east under Hwy 72, it flows through private land. It then enters forest property which you can access by trail Ceran St. Vrain trail) off of County Road 94 (south of Allenspark). The South fork merges with the Middle Fork and flows through the canyon along Hwy 7 (west of Lyons). There are lots of turnouts and public access points. Many of the private sections look like they are public, so check carefully before jumping in the creek.
On all of these creeks, use short casts. The creeks are narrow and often sided with brushy trees and alders. You won't need to impress anyone with tens of yards of double-hauling. Waders - nice idea just to give yourself a little clearance for a cast. They are nice for the lakes as well. The fish are always rising further out, right? Float tubes are okay on some of the lakes too. Midges and caddis work well, and add a beadhead dropper to get the fish hanging in the deep pools.
Resources/Other Info:
The St. Vrain creeks are named after Ceran St. Vrain, a French fur trapper and trader in northern Colorado in the 1830's.
Most of these waters lie in Arapaho and Roosevelt National Forest. Click here for more info on trails, camping, and forest service maps.
If you make it as far south as Nederland, stop in the Wolf Tongue Brewpub and have a Bucking Trout Brown Ale. The Bucking Brown Trout flyshop is across the street - fun guys and a fun store.
Click here to buy topo maps for this area. You need map 102 for the western sections of middle and south forks. You need map 200 for the western sections of north fork in Rocky Mountain Nat'l Park. For areas between Lyons and Allenspark, you'll need a US Forest Service map. Maps are produced by National Geographic Maps
How to get there?
From Lyons: Take Hwy 7 west.
From Boulder: Take Hwy 119 to Nederland and turn north on Hwy 72
From Denver - Follow Hwy 6 west to 119 and travel north to Nederland, or take Hwy 36 to Boulder.
Rules for the St. Vrain Creeks
North St. Vrain - from Horse Creek downstream to inlet of Button Rock Reservoir -

Artificial flies and lures only
Bag and possession limit for trout is 2 fish

South St. Vrain - upstream from bridge at inlet to Brainard Lk. to headwaters -

Bag and possession limit for trout is 2 fish
Artificial flies or lures only

South St. Vrain - From outlet of Long Lake to bridge at inlet of Brainard Lake

Fishing closures may be in effect from May 1 to July 15

State regs on rest of the rivers
Where to stay?
There are numerous forest campgrounds in the area as well as lodges, cabins, and B&B's in the towns of Allenspark, Ward, Peaceful Valley, and Nederland.
---