Gore Creek -
an unpretentious Gold Medal Stream
by Karen Christopherson
Vail - this word conjures up thoughts of great skiing, expensive homes, and pretentious people. But in amongst the flurry of growth in this part of the state runs a real pretty Gold Medal Stream know as Gore Creek. Need to get away? Dying to fish while driving on I-70? Is Vail getting to you? Drop in at Gore Creek - it's just minutes away!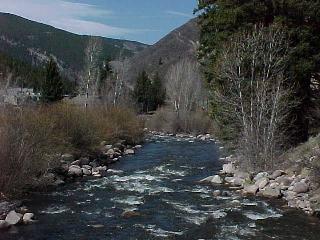 Gore Creek running west from Vail
The Gore runs right through Vail. The Gold Medal section starts at where Red Sandstone Creek enters the Gore (just west of Vail proper) and continues west to the Eagle River (at the Leadville exit off I-70). The Vail area has grown so much that confusion can come about trying to sort out West Vail, East Vail, Vail, and even Avon. Gore Creek runs along I-70 and the frontage roads in Vail. The traffic noise goes away once you're down on the creek and hear the rustling and bubbling of this stream.
If you want to fish this nice creek, waders are a good idea as it is quite narrow and lined with trees and brush much of the way. It's hard to find access, but believe it or not, there are actually public parks and access points that somehow escaped the expensive land grab in this town. You'll be viewed by mountain bikers, kids in strollers, dogs, and zooming cars.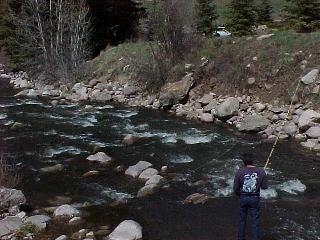 This is a true mountain creek - rocky and narrow
Rules:
Fishing with artificial flies and lures only, and the minimum size for trout is 16 inches. Limit is two, but put them back please....
Other ways to escape the Vail madness:
If you're looking for a bigger river, get on I-70 and drive west. At your first chance, exit and get onto US Hwy 6, which basically follows the Eagle River. There are quite a few access points between the Gore/Eagle merger and the town of Eagle. The Eagle is a great river, and is darn good for rafting/canoeing too.
Resources:

Click here to buy an Ebook about Trout fishing on Colorado State lands - includes info about state lands and access to Gore Creek and the Eagle River

Click here to buy topo maps for this area. You need map 108 for the Vail area and 121 for the Eagle River. Maps are produced by National Geographic Maps
Don't forget:
The country south of Vail is home to some beautiful mountains, including the 14'er, Mount of the Holy Cross. There's also Camp Hale (where the 10th Mtn Division ski troops trained for WWII), and lots of jeep and hiking trails. Most importantly, get out of town and enjoy the 'real' Colorado.
How to get there?
Take exit 173 at West Vail and travel along the frontage roads. You can fish at Stephens Park. Or, take exit 176 at Vail and follow the frontage roads west, looking for access. You can also park along I-70 right where the Gore meets the Eagle River near the road to Leadville, exit 171.
Map:
View Larger Map
---