Ice Fishing: Where to go?
by K. Christopherson
It's cold out - but you love it! Itching to go ice fishing.... here are some of the favorites of Colorado. Be sure to check on conditions before you go, making sure that the ice is ready and lake is open to ice anglers.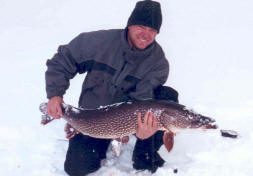 State Parks:
For info and conditions, plus tournaments, for these areas, go to
parks.state.co.us
Each area has its own set of pages
Boyd Lake - near Loveland
Chatfield Reservoir - southwest Denver metro area
Cherry Creek Reservoir - southeast Denver metro area
Elevenmile Reservoir - in South Park, west of Colorado Springs

Cabela's Tournaments 2016 - Jan 9, Feb 6, Mar 5
More info CLICK HERE

Harvey Gap Reservoir - north of Rifle
Rifle Gap Reservoir - north of Rifle
Stagecoach Reservoir - southeast of Steamboat Springs
Steamboat Lake - north of Steamboat Springs
Vega State Park - south of Rifle
State Wildlife Areas-
For more info on these areas, go to
CPW SWAs
Tarryall Reservoir - in South Park, south of Hwy 285, southeast of Fairplay
Lake John - in North Park, west of Walden
Delaney Buttes Lakes - in North Park, west of Walden
Other Areas-
Antero Reservoir (EMPTIED and CLOSED FOR DAM REPAIRS)
In South Park. More info, go to Denver Water
Aurora Reservoir-
East of Aurora more info
Blue Mesa
West of Gunnison; Tournament Feb 20, 2016 INFO
Granby Reservoir, Grand Lake, Shadow Mtn Reservoir-
Grand Lake. 2016 Ice fishing contest Jan 29,30,31 more info
Grand Mesa
East of Gunnison - TOURNAMENT Feb 6 (Saturday) at Island Lake
9 to 3pm; entry = $30; open to adults and children; cash prizes
Call Cedaredge Chamber of Commerce 970-856-6961
or email the Cedaredge Chamber or WEBSITE INFO
Williams Fork Reservoir-
East of Kremmling, south of Parshall more info
Wolford Mountain Reservoir-
Located near Kremmling. Tournament Feb 20, 2016 more info
Green Mountain Reservoir-
South of Kremmling, north of Silverthorne on Hwy 9.
Taylor Reservoir
Located NE of Gunnison and NE of Almont
Classes and Clinics
Ft Collins - CSU - Jan 29,30 - info; Feb 5,6 - info
Jeffco Open Space - Pine Valley Ranch - Jan 29 - info
Note: Photo at top of page courtesy Colorado Parks and Wildlife
---
Resources:

Click here to buy a topo maps for these areas.
---