Lost Creek, Found Brookies
Fishing in Lost Creek Wilderness
by K. Christopherson
Colorado is fortunate to have more than twenty wilderness areas. These regions offer solitude and beauty, and also good flyfishing opportunities. If you enjoy hiking in uncrowded mountains, and don't care what size of fish you catch, then head for one of the wilderness areas in our great state.
One of the wilderness areas closest to Denver, and home to miles of trails and thousands of brookies, is Lost Creek Wilderness. This area lies between the Tarryall River, the North Fork of the South Platte, and the South Platte River itself. The waters of the many creeks in Lost Creek Wilderness eventually end up in the South Platte. The region is known for its many unusual rock formations of exfoliated granites, popular with climbers.
The longest creek in the wilderness, and probably nicest to fish, is Lost Creek. Its headwaters are just south of Kenosha Pass. The two forks flow southeast and meet near the Lost Park Campground. The creek then flows into Lost Park, where it widens and meanders for several miles before traveling under and out of many large rock piles (hence the name, Lost).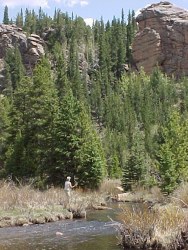 Flyfishing and great rock formations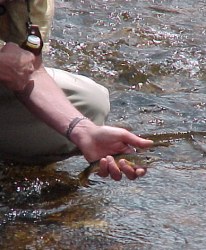 Lots of little brookies eager for a BIG dry fly
Lost Park is reached by taking the Wigwam Trail east from the parking area near Lost Park Campground. There is a $4 day use fee (don't whine too much - it's worth it). The first mile of the creek has portions that are quite tight and high gradient. Have patience and keep hiking until you reach Lost Park. Here five miles of very low gradient stream await with much better holding water for brookies. Don't be deceived because the water will be deeper in places, and brookies larger, than you might have expected.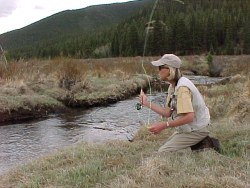 The brookies can be spooky, so get creative about how you cast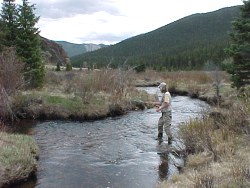 The quality and clarity of the water might surprise you
Two creeks on the east side of the wilderness area also offer good brookie fishing - Wigwam and Goose Creeks. Goose Creek is actually a continuation of Lost Creek after it emerges from its last large under-rocks run. Wigwam Creek starts near a small pass at the east end of Lost Park. Both of these creeks are reached soon after starting out from the trailheads.
More of a hike, but worthy of fishing, is Craig Creek in Craig Park. This creek parallels Lost Creek to the north side of the Kenosha Mountains.
How to get there?
(NOTE: The Hayman fire in 2002 has caused some closures at the Wigwam and Goose Creek trailheads. Check with Pike Nat'l Forest about current trail closures)
Lost Creek Take Hwy 285 southwest, past Pine Junction and over Kenosha Pass. Just after entering South Park, turn left (signed) onto County Road 56. Follow for 21 miles to the Lost Park Campground and trailhead.
Goose Creek Take Hwy 285 southwest to Bailey and turn east on County Road 68 heading towards Wellington Lake. For further directions (there are lots of forest roads down this way), read the details on link for Goose Creek Trail below.
Wigwam Creek Take Hwy 285 southwest to Pine Junction and turn south towards Cheesman Reservoir. As with Goose Creek, directions get complicated so read link below for the Wigwam Trail info
Craig Creek Best access is from near Bailey - see trail description below.
Resources:
Rules:
No special fishing regs
Special rules for Wilderness Areas include no motorized vehicles or bikes. Other rules are posted as you enter the wilderness area.
Where to stay?
There are National Forest campgrounds such as Lost Park, Goose Creek, Molly Gulch. Dispersed camping is allowed in the national forest, or backpack in and enjoy for a few days.
---