Fishing Ouray County
contributed by Tim Patterson
owner: RIGS Fly Shop and Guide Service
From deep canyon pools and gently braided runs, to high country lakes and magnificent reservoirs, Ouray County offers anglers of all ages and ability levels a chance to participate in some of Colorado's finest angling opportunities.
Fly Fishermen, Spin Casters and bait fishermen alike, all have locations in which they can enjoy making some casts to the regions diverse selection of trout. Rainbow, Brown, Cutthroat a nd Brook Trout, as well as the occasional Kokanee Salomon, can all be found within a short drive from Ouray. Throughout the summer, excellent access to the high country offers anglers unparalleled beauty and incredible insect hatches. Eager fish, crashing the waters surface are sure to keep your attention.
So whether you're looking for a fun and relaxing place to take the family or you're in search of remote and productive trout waters, the region has something for everyone.
To help determine which location would be best for you and your group, here are a few suggestions of some of the Counties better options for wetting a line!
Uncompahgre River
Although section of the Uncompahgre River through the City of Ouray are too turbulent for productive fishing, a bit further down river offers gentle and easily accessible. The Pa-Co-Chu-Puk and Dallas Creek areas within Ridgway State Park offer classic tailwater river fishing, small creeks and stocked ponds the whole family can enjoy. *Access here excellent for all ability levels, including disabilities.
Ridgway Reservoir
Dutch Charlie Area
Enjoy great shoreline fishing especially on the south shore of the cove where it opens out into the main body of the reservoir. It's close to picnicking sites, a playground and a modern, universally accessible fishing pier.
Dallas Creek Day Use Area
Highlights include a long shoreline for river or reservoir fishing with convenient drive-up areas and parking spaces. The best fishing is often found where the Uncompahgre River empties into the main body of the reservoir. Kokanee salmon are here during their autumn run.
Cimarron River and Silver Jack Reservoir
The Cimarron River offers great angling opportunities for Cutthroat, Rainbow and Brook Trout. This often overlooked fishery can provide excellent dry fly-fishing throughout the year. A good piece of tail-water angling lies just below Silver Jack Reservoir. The Forks of the Cimarron River offer incredibly scenic fishing in the Big Blue Wilderness, while easy hike access to several scenic high alpine lakes is excellent.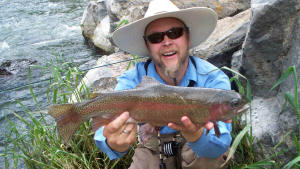 Some gorgeous trout can be found on the Uncompahgre and other area rivers
Creeks and High Lakes
Dallas Creek:
This large feeder creek flows into Ridgway State Park Reservoir and is home to an excellent trout population, access is limited.
Canyon Creek:
One of the few good streams in the Ouray area for fly fishers. Both brook and rainbow trout are found here.
Cow Creek:
Upper Cow Creek offers excellent opportunities for those seeking solitude. The more difficult the access (bushwhacking required), the bigger the trout
Crystal Lake:
Located just a few miles from Ouray, up Red Mountain Pass to Ironton Park, and on your left is a crystal clear spring feed pond that has some nice dry fly fishing.
Blue Lakes:
These three lakes sit at an elevation of approximately 1,100 with stunning views and some nice size trout as an added benefit. Unfortunately, access to these beautiful lakes is accomplished by hiking four miles into the Mt. Sneffels Wilderness area on TR #201. The three lakes range from 6 to 16 acres in size. Remember to go prepared for all types of conditions.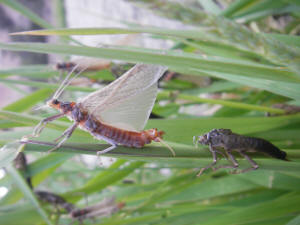 The Stonefly hatches are not to be missed!
Don't forget to contact the local fishing shop to receive the most up to date information on conditions, locations, licenses and supplies.
RIGS Fly Shop & Guide Service, in Ridgway on Hwy 62. 888-626-4460,
www.fishrigs.com
---
Resources/Other Info:

Click here to buy an Ebook about Trout fishing on Colorado State lands - includes info about Ridgway State Park and other places nearby.

Click here to go to RIGS Flyshop & Guide Service's website
---