Rio Grande and Grandes Truchas
by K. Christopherson
Southern Colorado is home to some spectacular scenery, where volcanic peaks rise above valleys. As early as the 1500's, Hispanic settlers moved into the area, in part via land grants from the Mexican governor in Santa Fe, until it was ceded to the U.S. in 1848. Much of their heritage remains, including names of town, mountains, and yes, rivers.
One of the largest and best know rivers, the Rio Grande (Grand River), runs through southern Colorado. This river is not only fun to fish, with some good access, but also holds some large trout (Grandes Truchas).
Enough Spanish and history...on to the trout. The Rio Grande headwaters start in the dramatic San Juan Mountains at over 12,000 feet elevation. For its first 25 miles or so, the river runs through forest lands. The waters up here are mostly wadeable, with the exception of Box Canyon. Many sizes and types of trout inhabit these waters, including some surprisingly sizeable browns. There are several USFS campgrounds along the river, making this an easy area to spend a few days and fish, while enjoying the high-altitude scenery and air.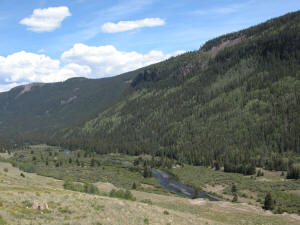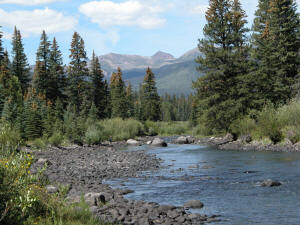 As the river travels about 30 miles east and south towards South Fork, the land is a mix of private and public. Access is available on US forest and Colorado State Wildlife Areas (SWAs).These upper areas are terrific for dry-fly fishing in the summer when hatches abound and the river is lower. The old mining town of Creede offers a diversion of neat bars and cute flyshops.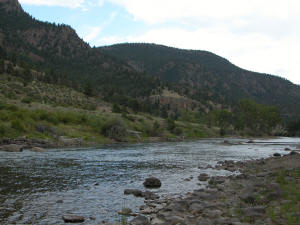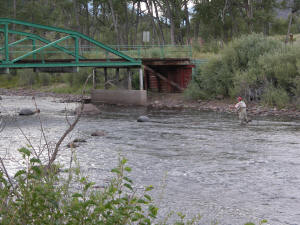 At the small town of South Fork the Rio Grande merges with its South Fork. Wonder how the town got its name? The river's South Fork starts on Wolf Creek Pass. Hwy 160 follows the river, so access is relatively easy where the river flows thru US forest lands. There are also a few USFS campgrounds right on the river. The fishing can be a bit tighter along this section, and you need to tune out the traffic. Still it can offer decent fishing and a variety of trout.
After leaving South Fork, the river takes on a bigger character as it travels towards Del Norte. The lack of public access, and higher water volume, make this a perfect section to float. The river is not crowded here - not many people float fish - and this is where the really big browns (and some rainbows) are, fed by lush bug habitat along this valley setting. Everything from midges to grasshoppers are available to keep the browns and rainbows fat and happy. This section is gold medal water, due to the size and number of trout. In this section you'll want to use a dropper as well as a dry, as the river is mostly deeper than the upstream sections. There is a fishing easement soemwhat mideway between South Fork and Del Norte which is wadeable at times.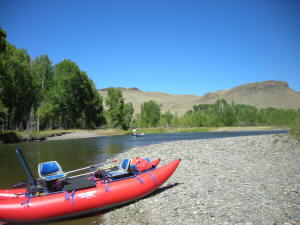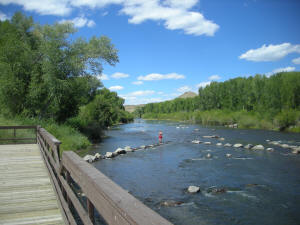 At Del Norte there is a small city park with a fishing pier and a nice reach to fish. After leaving this small town, the river is diverted several times for irrigation until it regains its size and offers some wonderful fishing opportunities in New Mexico
Click here to read another story about fishing the Rio Grande
---

Click here to buy a digital, downloadable access map and guide for the Rio Grande. Includes a smaller version for mobile devices, tablets, etc.
---