Headwaters to Tailwaters:
The San Juan
by Karen Christopherson
The San Juan River spends most of its time in New Mexico and Utah. However, it starts in Colorado high country, up near Wolf Creek Pass. Its beginnings are in mountain creeks, but even by the time it reaches Pagosa Springs, it has grown to be a decent size river. Downstream, another 25 miles or so, it is even larger as it flows into Navajo Reservoir.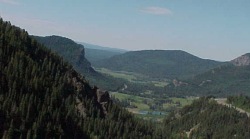 San Juan headwaters from Wolf Creek Pass
Headwaters to Pagosa Springs
The headwaters flow into the East and West Forks of the San Juan. The West Fork is accessed in National Forest land off of US Hwy 160 (west side of Wolf Creek Pass). The East Fork Can be reached by taking Forest Rd 667 east of Hwy 160, about 10 miles south of the pass.
Pagosa Springs
The river flows right through Pagosa Springs. The town has a pretty unusual agreement with the landowners along the river - you can fish and have access to the high-water mark (this is not normal Colorado law). There are several parks in town, and it means you can stay in Pagosa and go fishing whenever you like, maybe go have a nice lunch or soak in the hot spring pools, and go back fishing.
South of Pagosa Springs
Most of the river's journey after leaving Pagosa is through lands on the Southern Ute Indian Reservation. This means special regs and and a separate license. For info Click Here.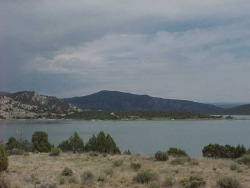 Navajo Reservoir
Navajo Reservoir and into New Mexico
The San Juan is probably best known for its tailwaters at the base of Navajo Dam. Don't forget your NM license!
And, as the river flows through New Mexico, it is a float-trip dream. Many Colorado guides and flyshops offer fishing float trips on this portion of the river.
Some good info about fishing below the dam Visit the website for Navajo State Park (Colorado portion) or Navajo State Park (New Mexico portion)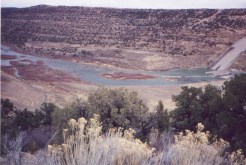 Tailwaters below Navajo Dam.
Photo courtesy Jim Partin
Our buddy, Jim Partin of ArkAnglers, enjoying some winter fishing. Jim normally guides on the Arkansas, but took some time to fish the San Juan and catch lots of trout. Yes, there can be hatches when it is snowing out! Photos courtesy Jim Partin
Other rivers
This is great fishing country. There are many other places to fish. Take your pick of mountain streams and lakes, or fish some of the other well-known rivers that are only a short drive away - the Piedra, Animas, Los Pinos all offer fine fishing.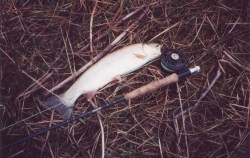 Just taking pictures - put them back!
Photo courtesy Jim Partin
Resources/Other Info:

Click here to buy topo maps for this area. You need map 140 for the area near Wolf Creek Pass, northeast of Pagosa. This map also covers the upper Piedra, Los Pinos, and Animas. Maps are produced by National Geographic Maps
Visit Pagosa Spring's website, including info on the springs
See the website for San Juan National Forest
Info on fishing on Southern Ute Tribal Lands http://www.southernute-nsn.gov/wrmweb/fishing/
How to get there?
The San Juan flows next to US Hwy 160 northeast of Pagosa Springs and into town. South of Pagosa, it is accessed from Trujillo Road/ 500 Rd. You can also get to Navajo Reservoir this way, or take Hwy 151 south off of Hwy 160, west of Pagosa Springs.
Rules for the San Juan
From junction of Hwys 160/184 downstream, through Pagosa Springs, to Apache Street: Bag and possession is two trout for all anglers.
State regs on rest of the river in Colorado. Check regs if you head into New Mexico.
Where to stay?
There are several forest service campgrounds in the area. There are numerous motels and private campgrounds in and around Pagosa Springs. And you can stay right close to the tailwaters below the dam at Navajo Reservoir.
---