Float Fishing the Colorado River:
Slammin' Trout

Click here to buy the Colorado River ebook
"Try slamming your fly against the bank," Pete Golden said. Dave Haubert of Larkspur had the bow seat of our host's 16-foot fiberglass drift boat. He cast the large Woolly Bugger to the run along the bank and began retrieving with short rapid tugs for a short distance, followed by another quick cast. "A lot of the guides on this river have their clients use the technique," Golden said. "I think it looks like something trying to get away. The trout can't resist it."
A few casts later Haubert hooked up with a feisty 14-inch brown that couldn't resist his leach imitation. The eagerness of the trout wasn't the only pleasant discovery of the weekend for the three of us. Another was the fall colors, having reached their prime, adding to the beauty of the river, the canyons, and its trout.
The early-October trip on the Colorado was a first for Haubert. He has often fished the Green in Utah but had never sampled this stretch of the Colorado between Kremmling and State Bridge. Neither had any of us seen the river so clear and full of insect life.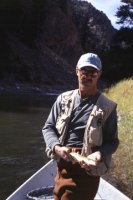 Dave Haubert prepares to release a Colorado River brown.The fish was taken a mile downstream from the Pumphouse put in.
Before launching his boat on our 10-mile run, Golden dug out a seine to collect stream-bottom nymphs. Included in the 100 or more tiny critters were willow flies (large black stoneflies), golden stones, the usual caddis and midge larvae, and small aquatic worms. The surprise, however, was the abundance of Baetis larvae. Common in Middle Park, these insects imitated with Blue-winged Olives need clear water and a clean bottom to thrive.
What happened to clear up the water? In 1987 the Colorado River Water Conservancy District applied to build a dam on Rock Creek, a small tributary of the Colorado. After public hearings the application was changed to Muddy Creek, a small stream that was never clear. Construction of Wolford Mountain Reservoir was completed in 1995. As soon as the gates were closed, Wolford began trapping sediment that had entered the Colorado for centuries.
Muddy Creek is appropriately named. It heads at Muddy Creek Pass a few miles east of Rabbit Ears Pass. The stream runs through easily eroded Cretaceous-age Pierre Shale. At any time of year, the water had the appearance of chocolate milk. During runoff it was even worse.
While speculation had it that the Colorado would begin to clear, it took time for the effects of the reservoir to be significant. In each following year the river became more clear. By 1999 turbidity had decreased dramatically, sufficient to allow the bottom to show in all but the deepest holes.
Even before Wolford was completed, the Colorado was a decent river to fish. It was somewhat of a secret, though. Today it's unusual to go more than a few weeks without hearing or reading of the new and improved river. At least once each summer, Denver newspapers carry stories of the Colorado and its trout. Colorado Division of Wildlife fisheries manager Eddie Kochman enjoys telling of browns in the 20-inch class at State Bridge.
Enough of this already. Where do we go and how do we get there?
The Colorado runs beneath State Highway 9 between Grand County Road 1 and Kremmling. A mile south of town, CR 1 also known as the Trough Road, heads west to State Bridge, about 25 miles away. The Trough Road follows the river much of that distance. At several points along the way anglers have access to public stretches of the stream.
The Colorado in this area is a legally navigable river through private, state, and BLM land and access is open through private land. Anglers may not trespass on the banks of private property, though, without permission. The first place to put in a boat is Pumphouse Recreation Area, a BLM campground and launch site. This is a fee area for all users.
A good half-day float is from Pumphouse to Radium, the next launch/takeout site. This gives anglers 4 miles of water to fish, most of which is inaccessible without a boat. It's an easy float most of the way but watch out at Needle Eye Rapid, the halfway point. It's Class lll water above 4000 cubic feet per second (cfs) and because of the canyon, the rapid isn't easily scouted before running it. Prior to runoff, or in late summer and fall, flows under 1500 cfs are a piece of cake – provided the oarsman is experienced.
There's no need to hurry this float. Plenty of places exist to get out and fish from the bank or wade the shallower parts. In canyon stretches, work a fly or lure next to the walls. Expect to catch fish anywhere, though. Three miles from Pumphouse, stop and enjoy soaking in a warm spring, just the thing to relax fatigued muscles after fighting dozens of big fish.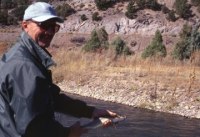 A 14-inch brown taken near Radium
At the Radium takeout is a free campground. The facilities are tent pads, tables, fire grates, a parking lot, and toilets.
The stretch from Radium offers three possible floats. One ends at Rancho del Rio six miles downstream. Going on to Yarmony Bridge is another mile, and the trip to State Bridge is 10 miles. The float requires negotiating two rapids, Red-Eye and Yarmony. These are Class ll/lll depending on flows. Use extreme caution at rates above 2500 cfs.
A feature of floating the entire 14 miles is the chance for remote overnight stops along the river. The first designated place is Cottonwood, 3.5 miles from Pumphouse. Below Radium are Island, Bench, and Lone Tree. The only facilities are tables and fire pits. Boaters can also camp anywhere on BLM land.
Floating this stretch presents one logistics problem at the takeout – how to get back to your vehicle. One solution is to use the shuttle service at Rancho del Rio. For a fee they will drive your vehicle to their parking lot. The other answer is to use two vehicles, parking one at the launch, the other at the takeout. Although this doesn't incur any fee, it does use valuable fishing time.
OK, not everyone has a boat or access to a boat. Anglers on foot still have a few places to access the river without trespassing. The first place is at Pumphouse. It has good fishing at the campground. A trail heads upstream along the bank toward Gore Canyon. Except at low flows, don't plan to wade many sections. This is a good stretch to fish with lures or spinners.
Three miles of the river below Rancho del Rio run through BLM land. The Trough Road follows the river and has places to park near the water. A railroad runs between the county road and the river and trains pass here frequently. Use caution.
State Bridge is a premier spot to fish. In the fall look for browns running up the Piney River to spawn. It's almost too small to be called a river. A couple miles are open above the confluence on BLM land.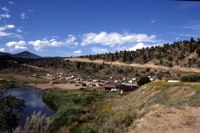 Rancho Del Rio offers a shuttle service for anglers floating the Colorado
The river holds at least three varieties of trout – browns, rainbows, and cutthroats, or rainbow/cutthroat hybrids. The fish range in size from eight inches up. They have not yet become picky feeders. Productive fly patterns include midges, caddis – dries and nymphs, Woolly Buggers and other streamers, and Humpys. When the Baetis are hatching put on a BWO. Terrestrial patterns also work well. In late summer and fall, try something to imitate grasshoppers. Hoppers are ideal patterns for "slamming" the banks.
Lure fishermen will want an assortment of spinners – Mepps, Panther Martins, and Roostertails in a variety of sizes and colors. Rapalas of three to four inches are killers here. The only special regulation on this part of the river is a two fish limit.
When taking out at State Bridge, plan to get there at dinner time. The State Bridge Lodge may not look like much but the dinners are great. It's a very lively place on a Saturday night for those who want to celebrate their successful fishing.
The river offers a lot of water to fish in 14 miles. Should a person stop at every good looking hole or riffle, it could take a month to fish this section. Probably the best solution is to fish as Chicagoans vote – early and often. Anglers who want to float the river but don't have a boat can hire one of several guides who run this section.
When possible plan to float the river at times other than summer weekends. Anglers won't see a great many other fishermen but you will find heavy hatches of recreational rafters and kayakers. Most are friendly and not a problem. Those that are a problem are likely inexperienced on a river and have yet to learn proper etiquette.
Our fall weekend concluded two days of steady action. Each of us caught trout both days. Although we didn't have 30-fish days, what we experienced led each of us to the same conclusion – we will be back in the spring slamming the banks for Colorado River trout.
CAUTION
It is possible to put a boat in the water at SH 9. It is not, however, recommended. Seven miles downstream the river enters Gore Canyon with Class VI rapids and 25-foot drops. Public takeouts and portages around the falls do not exist. In case of trouble in the canyon, DON'T EXPECT HELP. Some who have done this section in a kayak say they will not do it again.
Copyright © 2000 by Al Marlowe. No reproduction, linking, or copying without permission
---
Resources/Other Info:

Click here to buy an ebook- The Colorado River: A Fly Fisher's Guide by Al Marlowe and Karen Christopherson which includes color maps and info on the Colorado and its main tributaries (Blue, Eagle, Fraser, Roaring Fork, Fryingpan and Fraser). The book is over 170 pages and includes info on access, flies, hatches, and more.....

Buy a downloadable digital fishing map for the Colorado River - includes access all the way from the headwaters to Rifle. Includes a smaller version for use on mobile devices such as tablets and smart phones. Click here for info or to purchase.

Click here to buy topo maps for this area. You need map 200 for Rocky Mountain National Park, map 106 for the Colorado River from Granby to west of Kremmling, map 120 covers west of Kremmling to west of Burns, and map 151 from Eagle to Rifle. Maps are produced by National Geographic Maps
More info and pictures on the Gold Medal section of the Colorado River.
---