Winter Fishing: The South Platte
Waterton Canyon
by K. Christopherson

Click here to buy a digital South Platte Fishing Map
It's winter and most of the smaller rivers are iced up. You're dying to go fishing, and don't want to travel half way across the state. Feel like walking or biking through the snow and tempting some challenging angling? Try Waterton Canyon.
The South Platte River merges with its North Fork at the west entrance to Waterton Canyon. Here the river is accessible by foot or mountain bike - there is a parking lot across from the old South Platte Hotel on Hwy 67 north of Deckers. The trail follows the grade of the narrow gauge tracks (now removed). This track was laid in 1876 for the Denver South Park and Pacific rail line, running from Denver to South Park and Leadville to service the mining camps. However, on weekends it was popular with Denver anglers offering access to world-class fishing in the 1870's.
You can also access Waterton Canyon from the east. Drive south on Wadsworth Blvd (Hwy 121), south of C-470. The road turns at Kassler where there is a large parking area. From here, you can bike or hike into the canyon. The path is wide and reasonably flat.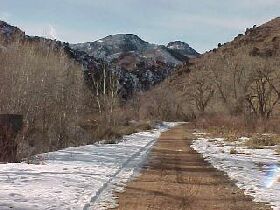 Looking west at Waterton
You can start fishing almost immediately. In the winter, the trick is finding the areas which are at least partially ice-free. Be careful walking on the ice - potential exists for slipping or breaking thru the ice. Bring your waders so you can get out in the river and make casting easier.
To find less crowds, good pools and small tailwaters, hike or bike up the canyon. A mountain bike works well, as it is 6.2 miles from Kassler to Strontia Springs Reservoir. However, there are good areas to fish before Strontia Springs. The fishing improves at the Marston Diversion Dam which is 3.3 miles from the Kassler trailhead.
No dogs are allowed in the canyon because of the Big Horn sheep habitat. Up to 35 sheep live in the canyon - nice to look at, but please refrain from chasing or scaring them.
Remember that the object of this exercise is to get some fishing in, not necessarily catch fish. This is a tough stretch of water to fish, even in summer. Winter means using nymphs, and trying to attract fish that aren't really interested in what you have to offer. Occasional hatches may provide an opportunity to throw a small dry on top.
Because the hiking is easy, and there is good wildlife viewing, this area is a good place to bring the kids. There are picnic tables along the route where you can rest. Maybe it's time to teach junior how to use that fly rod.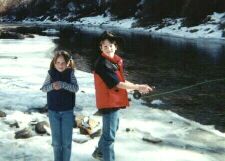 Learning to flyfish
How to get there?
West entrance
From 285 near Conifer: Turn south on Foxton Road. This will lead to the North Fork of the South Platte. Follow downstream to the South Platte and Waterton Canyon
From 285 at Pine Junction: Turn south on Pine Valley Road (Rd. 126). Continue to Deckers, or turn off on 96 Rd., following the North Fk. to its confluence with the South Platte
From Sedalia: Turn west on Hwy 67. Follow over Rampart Range. Hwy 67 will turn south and follow the S. Platte to Deckers
From Woodland Park: Take Hwy 67 north to Deckers
East entrance
Drive south on Wadsworth Blvd (Hwy 121), south of C-470
Resources:

Buy South Platte Digital Fishing Maps. Available as download or on cd. Click here for info or to purchase.

Buy an ebook on CD: Fifty Colorado Tailwaters: A Fly Fisher's Guide Click here for info or to purchase. Includes the Waterton section of the South Platte

Click here to buy a topo map for this area. You need map 135 for the South Platte from Cheesman Res. to Chatfield Res. Maps are produced by National Geographic Maps
Rules:
From Cheesman Dam downstream to upper boundary of Wigwam Club - Gold Medal - fishing with artificial flies or lures only; catch and release
From lower boundary of Wigwam Club to Scraggy View picnic ground - Gold Medal - fishing with artificial flies or lures only; bag and possession is 2 fish, 16" or longer
From Strontia Springs dam to 300 yds upstream from DWB diversion structure - fishing with artificial flies or lures only; bag and possession is 2 fish
Info on Other South Platte areas:
Map: Waterton Canyon area
View Larger Map
Stream Flows
South Platte River below Strontia Springs Reservoir
---