Ten Mile Creek (Would you believe 8 miles of fishing?)
K. Christopherson
I know you've driven by this stream, and probably ignored it. It follows I-70 from Copper Mountain to Frisco. It has a bike/hiking trail alongside (thanks to the Colorado lottery proceeds). It isn't heavily fished, and it's easy to get to. Much less, the eight miles or so of public water holds quite a few wild fish. What more could you ask for? Stop whining about crowded waters and exit I-70 for Ten Mile Creek.
There are three tributaries to Ten Mile Creek. North Ten Mile flows off the Gore Range directly into Frisco. This is almost a separate segment, as it only increases the creek for its final short journey thru Frisco. You can fish the North Fork by hiking up the trail west of Frisco. West Ten Mile Creek headwaters are at Vail Pass. This creek segment flows between the east and westbound I-70 lanes and into Copper Mountain. This segment can be reached from a rest area near Vail Pass, or from the bike trail which follows the creek. Both of these creeks are much smaller than the main part of Ten Mile Creek.
Ten Mile Creek proper heads near Fremont Pass. Unless you're interested in mining history, you probably shouldn't bother with a trip south of Copper Mountain for fishing. The headwaters are near the Climax Molybdenum Mine, at one time the largest moly mine in the world; the area is being reclaimed but the tailings ponds are still very obvious. Most of the area is private land (held by mining companies) and the creek bears the impact of minerals in the water.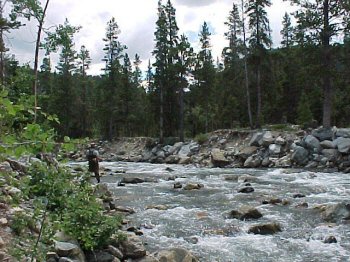 Portions of the creek flow thru higher gradient. Here the small pools almost all hold trout
So we'll focus on fishing Ten Mile for its best water from Copper to Frisco. Here the water types vary, from lower gradient, rocky streambeds to plunge pools. Although these wild trout will be keen to leap to a dry, or grab a nymph, they can also spook easily. In parts of the stream, you can cautiously approach the water and spot the fishing holding in the pools. Use a light cast to set your fly above the trout.
If you find this to frustrating, head to the higher-gradient sections of the stream and fish the pocket water and plunge pools. You'll be surprised how quickly a small trout will grab your nymph with a cast into almost every decent pool.
There are also some beaver ponds that have developed at selected spots - try them for something different.
The trout are mostly browns, but Snake River cutts, rainbows, and brookies are also present. Although most of the fish will be on the smaller side, some large trout will migrate into Ten Mile Creek from Dillon Reservoir during spawn. Head to the Frisco Marina in spring or fall if you're interested in angling for the bigger guys. Else, enjoy this creek for what it is - an easily accessed mountain stream with some fun fishing.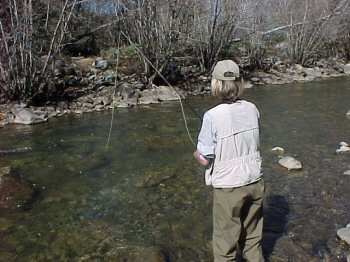 When the water is clear, do some careful sightfishing to the often spooky trout
The upstream part of the creek is one of the most pleasant. Here the stream is in its mostly natural state, as compared to portions that were diverted when I-70 was built. There's also a large pond at Wheeler Junction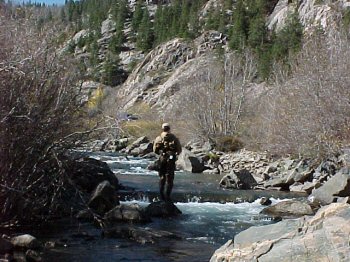 Plunge pools and nice structure make wading a fun experience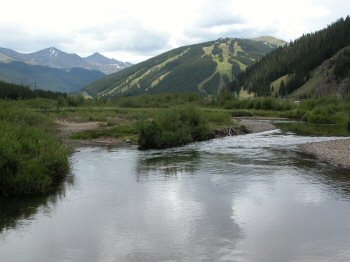 Wider sections near Wheeler Junction - That's Copper Mountain in the background
Access:
You can ride a bike along the Ten Mile Vail Pass trail following Ten Mile Creek. The access points for this trail, or to the creek are:
Frisco: From I-70, take exit 201. Go east on Main Street, cross Ten Mile Creek. There is a parking area on the south side of the street.
Officers Gulch: From I-70, take exit 198. Go under the overpass (I-70) to the east to a parking area.
Copper Mountain/Wheeler Junction: Take exit 195 off I-70 (Hwy 91 to Leadville). Turn to the east and then backtrack to the north on a sort of frontage road to a parking area.
Also
Frisco Bay: At the east end of Main Street in Frisco, there is a park where you can fish the inlet of Ten Mile Creek into Dillon Reservoir
Resources:
Buy an ebook on CD: Fifty Colorado Tailwaters: A Fly Fisher's Guide Click here for info or to purchase. OK, Ten Mile Creek isn't a tailwater, but this is a must-have ebook for fishing Colorado!
Click here to buy topo maps for this area. You need map 108 for Ten Mile Creek (the portion that runs along I-70). Maps are produced by National Geographic Maps
Rules:
Map:
View Larger Map
Stream Flows
Ten Mile Creek
---