The White River
by Karen Christopherson
I'd seen the pictures sent by my friends - HUGE cutts and cutbows (over 20" and counting) caught on the White River by Meeker. I too wanted my chance at these beautiful fish. Finally, we found four days to make the trip and get our reward - yes, truly large cutthroats, cutbows, rainbows, and whitefish.
The White River originates in the Flat Tops. The North Fork starts at Trappers Lake; the South Fork starts just a few miles south. They meet up near Buford and form a gorgeous freestone river traveling through a broad valley of hayfields.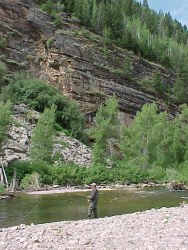 Fishing along the South Fork next to a wall of limestone
There's some really decent access on the White River. You can fish the major river for several miles between Meeker and Buford. If you like slightly smaller stream fishing, head to the North or South Fork. Access can be found on the North Fork primarily on USFS lands. The South Fork has little public access except for the section in Flat Tops Wilderness. Luckily there are 20 miles of river, with a trail along side, and a low gradient (average 2.5%). The bad news - there are lots of "willowy" sections - you will have to beat your way thru the willows lining portions of the river. But once on the water, you can wade upstream in most sections and then look for a decent spot to exit.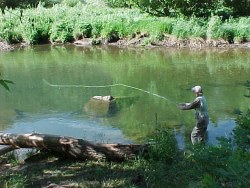 Pools on the South Fork - you'll spot fish in the feeding lanes. The challenge is to tempt them with your fly!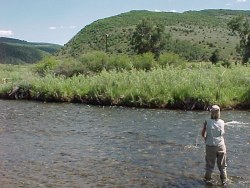 Dry flies and nymphs work equally well when fishing seams and riffles along the main stem of the White
The Big Fish
OK, I'd come to this river to not catch just fish. I wanted a large fish like my friends had caught. We decided to put our trailer at Sleepy Cat Guest Ranch so that we'd have easy access to their 2.5 miles of the White, as well as a reasonably short drive to other parts of the river. Upon arrival, I pled with the husband to get the trailer organized and look after our Lab so that I could go check out the flyfishing. I put on a size 14 H&L Variant with a small beadhead pheasant-tail dropper (my semi-standard when I don't know what else to use) and I was off. Almost immediately (well, within 30 minutes or so) I had landed several rainbows and whitefish. The whitefish were especially fun. They certainly rose a lot to the dry but setting them was a different matter. I gather that their small mouths make it harder to get that large fly swallowed. Then, NIRVANA! First I landed a 20" rainbow, nice and fat. He was waiting in a reasonably shallow run along the side of the river. I waded about 30 feet upstream, fishing the narrowed runs, side seams, and smaller riffles. BOOM! I had found my whale - it didn't take to long to land him and he was fairly docile. I maneuvered him over to shallower water to release him (I don't use a net) and just stood in awe. With no camera or audience, I tried to keep a mental picture of this beautiful cutbow and held my rod next to measure him - 23 inches of glory. One of the largest fish I have ever landed. He released easily and I remained in shock for hours while re-telling the story to my husband and dog over several G&T's.
The next day we hiked up the South Fork in Flat Tops Wilderness. The trail is easy to hike and follows close to the river. After about two miles, we found a spot where there weren't too many willows and we could hike into the river. Very nice water - manageable size and crystal clear. We started wading the river. Within a few minutes we came to a nice bend that just shouted "Fish here, perfect spot" - you know, one of those outside river bends that has logs and deep water. I told husband to fish it - he deserved first shot. He did, but then got his line caught so called for me to try before he spooked the fish out. I cast a few times and then had a strike on the nymph. Cast again and I got him. Pretty soon I realized this was not your average smaller stream, high altitude fish. He took off and gave me quite the practice session in landing a large trout. I was glad I had decided to bring my 5-wt rod instead of my normal lighter weight, packable rod. After minutes of giving me some great anxiety, I finally landed him, again sans net. I had to have a picture of this guy. I carefully unhooked him and held his slippery body up for husband to get a shot via zoom lens from across the river. We estimate this cutt was about 18" long and he certainly was healthy!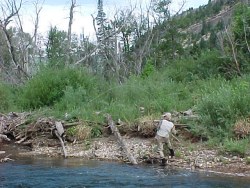 I knew I had hooked a pretty large fish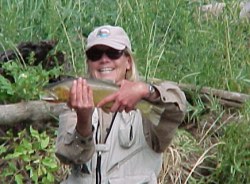 The gorgeous Cutt
Access points on the White River (starting at Meeker and going upstream)
Meeker City Park - from 10th St. bridge upstream to Circle park bridge
Following mileages are from start of County Road 8 at intersection with Hwy 13
Meeker Pasture SWA - 2 miles east on Cnty Rd. 8; 1/4 mile of river access
Wakara Ranch Access. Located 5 miles east on Cnty Rd 8. Access for about 0.4 miles downstream
Oak Ridge SWA (Sleepy Cat Ponds Access) Travel 14.5 miles east on Cnty Rd. 8; this is private property and fishing easement only. Fishing is in ponds and upstream for 1.5 miles to just past Sleepy Cat Ranch
Oak Ridge SWA (Lake Avery) - 1.5 miles of river access
South Fork Access
Oak Ridge SWA (Bel Aire Access) Travel 21 miles east on Cnty Rd. 8; turn south on Cnty Rd. 17 and travel 1.5 miles; old hatchery; camping available
Flat Tops Wilderness - Access by trail from end of Cnty Rd 10 at trailhead through South Fork Canyon. There is also access at the South Fork Campground at the end of the road.
North Fork Access
Rio Blanco County Access. Travel 24.1 miles on Cnty Rd. 8 to Cnty Rd 14 (not marked). Turn right and go 0.1 mile to the county campground.
White River NF Access - Access along road 205 en route to Trappers Lake
Flat Tops Wilderness - Trappers Lake is the headwaters of the north fork and also holds the largest concentration of Colorado River cutthroats
Regs:
Entire river (including north and south forks) has a bag and possession limit of two fish from headwaters to Hwy 13 bridge in Meeker, EXCEPT for easements (see next)
On Nelson-Prather, Wakara, and Sleepy Cat easements
Fishing with artificial flies and lures only
All trout must be immediately returned to the water upon catching
Resources - How to get there:
Take I-70 to Rifle and travel north on Hwy 13 to Meeker.
Resources - Where to stay:
Numerous USFS and private campgrounds can be found in the area
Several lodges offer cabin rentals for reasonable prices.
Get some info from the Meeker Chamber of Commerce
Resources - Plan your trips:
Campground info from White River National Forest
Click here to buy a Downloadable Digital Fishing Map for the White River - includes the North and South Fork and headwaters
Click here to buy an Ebook about Trout fishing on Colorado State lands - includes info about the White River area
Click here to buy a National Geographic/Trails Illustrated topo map for the area. You need map 150 for the Northern Flat Tops area, and the White River
Map:
View Larger Map
Stream Flows
White River near Buford
White River near Meeker
---