Take the Fork, the Roaring Fork
by Karen Christopherson
Wandering down from the high country of Colorado flows a river that changes from small to mighty, offering something for everyone. The scenery and character of this river changes drastically, as does the elevation. It starts at over 12,000 feet, ending as it flows into the Colorado at about 5,800 feet - an elevation change of 6,200 feet in its 70 mile trek. The river flows obliviously through the developing areas in the Roaring Fork Valley - you can escape this too by fishing the "Fork".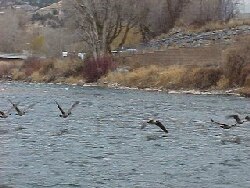 Flying over the Fork
Getting Started - Headwaters to Aspen
The Roaring Fork, or "Fork" as locals say, has its headwaters in the Hunter-Fryingpan Wilderness southeast of Aspen. It flows alongside the Independence Pass road, through Aspen, and into the Roaring Fork Valley. Almost all of the river from its headwaters to Difficult Campground (about 3 miles upstream of Aspen) is publicly accessible as the river is flowing through White River National Forest.
Wild Trout Waters
The Roaring Fork is classified as Wild Trout Waters from Hallum Lake (in Aspen) downstream to Upper Woody Creek Bridge (between Aspen and Basalt) - it is also Gold Medal (the double whammy). Luckily you can access the river from the Rio Grande Trail, which runs along the north side of the Fork. Hey, you can even ride your mountain bike as you hunt for those wild Rainbows!
Basalt to Carbondale - things pick up
The river gets a lot larger at Basalt as the Fryingpan enters the Roaring Fork. This section is floatable during high water levels. There is access in/near the towns of Basalt and Carbondale and at a few spots in between.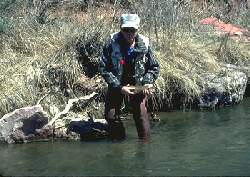 Author Al Marlowe on the Fork near Carbondale. Al wrote the book, 'Fly Fishing the Colorado', as well as many other books and articles. Photo courtesy Al Marlowe
Carbondale to Glenwood - Gold Medal Floating
From the confluence with the Crystal River (near Carbondale) north and downstream to the confluence with the Colorado River (near Glenwood Springs) the Fork is classified as Gold Medal Water. The river gets significantly larger here, and has a character similar to the Arkansas or upstream Colorado. You can fish from the banks, and wade in parts, but floating is the way to fish the lower part of this river.
As the river has traveled north through time, it has cut its way down through the glacial moraines and deposits. In some places, the Fork lies quite a distance below the terraced plain of the valley. To the east, the Maroon Formation shows its brilliant red hue as the hills rise above the valley floor. To the south looms Mt. Sopris, rising to almost 13,000 feet.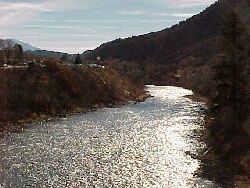 Upstream towards Mt. Sopris
Surprisingly good access
Fortunately, there is quite a bit of public access along this river which is located in a part of the state renown for wealth and privacy (i.e. Aspen). Access points are often at bridges, and where agreements have been reached. A couple of well-known and easier -to-find access points are at the Sunlight Bridge (south side) and at Veltus Park (west side of river in Glenwood).
A variety of fish
Upstream you might find rainbows and wild brookies. As you move downstream rainbows, browns, and mountain whitefish will be after your fly. Year-round hatches mean you can fish in winter while your friends go skiing. A warm day in winter can be the same as a cold day in summer. The fish might be acting a bit different, but don't dismiss winter fishing.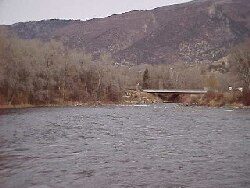 At the park in Glenwood towards Colo. River
Other rivers
One of the best things about this area is that you can also fish several other rivers. There's always the Fryingpan, and there's also the Colorado and Crystal Rivers, not to mention all of the area small mountain lakes and streams. This region offers a variety of fishing, and plenty of activities to keep your non-fishing friends happy - hiking, biking, shopping, touring, 4WD'ing, or soaking (in the hot springs).
Resources/Other Info:
Click here to buy an ebook The Colorado River: A Fly Fisher's Guide by Al Marlowe and Karen Christopherson which includes color maps and info on the Colorado and its main tributaries (Blue, Eagle, Fraser, Roaring Fork, Fryingpan and Fraser). The book is over 170 pages and includes info on access, flies, hatches, and more.....
Click here to buy topo maps for this area. You need maps 127 and 128 which will cover a good portion of the area. Maps are produced by National Geographic Maps
Rules for the Roaring Fork
Catch and release and artificial flies only for section from McFarlane Creek (about 3 miles above Aspen) to Upper Woody Creek Bridge (between Basalt and Aspen).
From Upper Woody Creek Bridge to Colorado River - artificial flies and lures only; minimum size for trout taken is 16", limit 2
An area 50 yds upstream and downstream from confluences with Four Mile Creek and Three Mile Creek - fishing prohibited March 15 - May 15, and Oct 1 to Nov 30; artificial flies and lures only; minimum size for trout taken is 16", limit 2
Where to stay?
There are forest service campgrounds along Hwy 82 southeast of Aspen. There are numerous motels, B&B's and condos in Basalt, Carbondale, Glenwood Springs, and Aspen. In Basalt try the Basalt Mountain Inn or Taylor Creek Cabins
For maps of the area, see the gold medal page.
How to get there?
Take Hwy 82 south from Glenwood Springs. This follows the Roaring Fork all the way to Independence Pass.
In the summer, you can access the Roaring Fork from the east. Take Hwy 82 west, off US Hwy 24, south of Leadville. The road is paved and offers some spectacular scenery.
Map:
View Larger Map
---