The 'Dream Stream'
Part of the South Platte series
by K. Christopherson

Click here to buy a digital South Platte Fishing Map
What do you get when you combine the waters of a famous Colorado fishing river with a tailwater and 3.8 miles of water above another reservoir? You get a great place for fish to live and breed. This river also turns out to be a Gold Medal water with the nickname of the "Dream Stream". Where are we describing? It's the section of the South Platte River between Spinney and Elevenmile Reservoirs in South Park, also known as Spinney Mountain State Wildlife Area. In 2010, the State Wildlife Area (SWA) was renamed Charlie Meyers SWA, in honor of the well-known deceased Denver Post Outdoor writer.
This portion of the South Platte starts below Spinney Reservoir and meanders through grasslands for about 3.8 miles before entering Elevenmile Reservoir. The bad news - it can be crowded, cold and windy. The good news - there are some large trout in this 'dream stream' and hence the Gold Medal label. Here you can try your best to catch a large Rainbow or Brown, and even Kokanee in the fall.
What makes this section of the South Platte so appealing is that you have the tailwaters from Spinney keeping the water at a reasonably constant temperature offering year-round fishing. The entire stretch is public water. Fish come upstream from Elevenmile Reservoir to spawn. The riverbanks are grassy with no trees to eat your fly. What else do you want - no wind and warm weather? Well, once in awhile.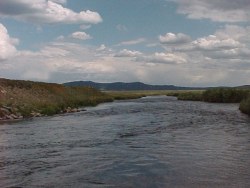 The South Platte here is reasonably wide and deep with some riffle and seams.
Since this is a portion of the South Platte, these trout have learned to be fussy and finicky like the rest of the trout in this river - how do they convey these teachings up and down the river, through reservoirs and over dams? Good question. But you will need to bring your patience and a selection of flies - dries, nymphs, scuds, attractors, terrestrials, big/fluffy buggers and in a variety of sizes. The fish are notorious for hugging the banks and bottom, but will rise during certain hatches and when the mood strikes them. Most of all, do not give up. Change flies, have lunch, and keep trying!
Be prepared for wind and sudden storms. Also, bring any food or refreshment you want as the closest store is several miles away.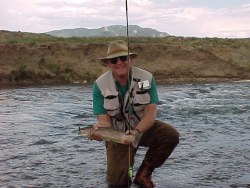 This gorgeous Rainbow was caught with a wooly bugger when most fish were rising.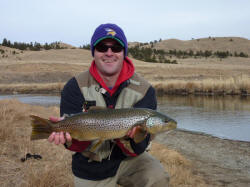 Another gorgeous trout (photo courtesy Mark Nigon)
The Dream Stream has become very popular in the past few years. There are four parking areas. Three are reached off the road from County Road 59. One parking area is right next to the stream on this road. The other two are reached by turning north after crossing the river. You can also access the tailwater section by entering Spinney State Park and driving below the dam (The park is closed during the winter). This will cost you the entrance fee of $4. HINT: Drive to the least crowded parking area and walk up or downstream, away from as many people as you can. Typical of most rivers, the anglers seem to walk to the river and not go much further than that.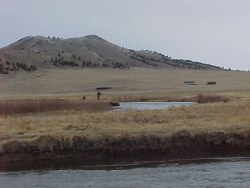 The good news is that you can fish from the bank without much fear of catching your fly in trees
Resources:

Buy South Platte Digital Fishing Maps Click here for info or to purchase. Available as download or on cd.

Buy an ebook: Fifty Colorado Tailwaters: A Fly Fisher's Guide Click here for info or to purchase. Includes the Dream Stream section of the South Platte

Click here to buy an Ebook about Trout fishing on Colorado State lands - includes a lot of info about the many areas in South Park and reaches of the South Platte (including the Dream Stream).

Click here to buy topo maps for this area. You need map 152 for the South Park area covering Spinney, Elevenmile and Antero Reservoirs plus Elevenmile Canyon and the South Platte in much of South Park. Maps are produced by National Geographic Maps
Check out the web site for Pike Nat'l Forest for info on camping, hikes, drives, and other fishing in the area.
See the Colorado State Parks site for information on Elevenmile and Spinney State Parks
Special Rules:
Fishing with artificial flies or lures only; catch and release for all species
Some parts (about 100 yds) from CR 59 to Elevenmile Res inlet closed to fishing as posted Sept. 15-Dec. 31 for kokanee spawning.
Where to stay?
There is camping at Elevenmile Reservoir State Park and a private campground near the entrance to Spinney Reservoir. Dispersed camping is available in Pike National Forest to the east.
Info on Other South Platte areas:
How to get there?
Take Hwy 24 from Colorado Springs for about 55 miles over Wilkerson Pass. Turn south on County Road 23, then south on County Road 59, past Spinney Res and turn west on Rd 59.
From South Park, take Hwy 9 south (just west of Fairplay). At Hartsel, follow Hwy 59 past Spinney Res. to Hwy 59
Map:
View Larger Map
Stream Flows
South Platte River below Spinney Reservoir
---